Focal Point: Sustainability as the Way of Existence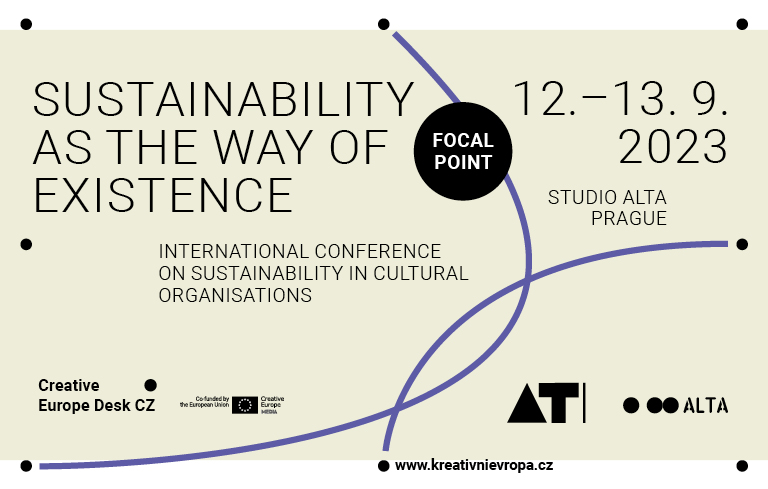 We cordially invite you to the international conference Focal Point: Sustainability as the Way of Existence, which we are organizing in collaboration with ATI – Arts and Theatre Institute and Studio ALTA on September 12 – 13, 2023. The conference will offer inspiration, successful case studies, and creative solutions on how to approach sustainability in cultural practice.
On the first day you can look forward to keynotes by international guests Caitlin Southwick (Ki Culture, NL) and Ben Twist (Creative Carbon Scotland, UK), followed by thematic panel discussions. Filip Koryta aka Dr. Filipitch will guide you through the conference part and talks. In the evening, ten organizations will present examples of good practice during TALKS. On the second day we have prepared three practical workshops for you. 
Seats are limited in Studio ALTA, where the conference will take place. Do not hesitate and buy your ticket today.
Annotation
Sustainability is a concept that all of us who work in the field of culture have certainly encountered more than once. Whether in grant applications, where we must fill in how sustainability translates into our work, or in practice, where, for example, recycling bins are standard at most cultural events and in the premises of most cultural organisations. But sustainability is not just about ecology and nature protection.
During the conference called Focal Point: Sustainability as the Way of Existence, we will explore the topic of sustainability in a much broader context, one that is connected to our everyday work. We believe that sustainability should become a way of life, where we are able to see the connections between quality cultural production, avoiding burnout for management and the whole team, and where an ecological approach to work goes hand in hand with social responsibility and economic stability.   
What does a staff in a cultural organisation need to perform well at their work? Is it sufficient funding and a loyal audience? Or is there more to our work? For example, to become an example for others because we are interested in issues that go beyond culture, such as an empathetic management approach in direct connection with environmental responsibility and our future. What do we need to re-prioritize and include in our practice more than artistic quality and originality, or formally correct project objectives? 
How do we bring public officials into the game? How can they help the sector meet sustainability criteria or consider new societal trends? Can civil servants become real partners and is there open space for change? 
What can we do as individuals when the world is dominated by corporations and political decisions? We hope to inspire you and offer solutions to make sustainability the norm. It's up to each of us.
Program
CONFERENCE AND TALKS - TUESDAY, September 12, 2023
12.00-13.00
Registration
Possibility of a tour of Studio Alta with its director Lída Vacková before its reconstruction (12.15-12.35)
13.00-13.30
Conference opening
13.30-14.00
Caitlin Southwick (Ki Culture, NL)
It's Normal to Be Sustainable
The keynote will outline sustainability – what it is and how it relates to culture. Case studies and examples will be given of impactful ways that the cultural sector is already leading the way for a sustainable future. Foundational knowledge will provide tangible actions for culture to not only practice sustainable action but advocate with our audiences and communities. The presentation will outline the importance of leadership from the cultural sector and give inspiring examples from Ukraine and other parts of the world. 
14.00-15.00
Panel discussion: What is sustainability and how to exist in synergy with it
Guests: Kateřina Vídenová (Academy of Arts, Architecture, and Design – Kafkárna), Lucia Kašiarová (Studio ALTA), Anna Hořejší (České Budějovice 2028 – European Capital of Culture) 
Moderator: Jonáš Zbořil
15.30-16.00
Keynote by Ben Twist (Creative Carbon Scotland, UK)
If the arts and culture r e a l l y want to talk about climate change, what should we say and who should we talk to?
The climate crisis is global society's biggest challenge. What's stopping the arts and culture from really talking about it – to artists, our audiences, our funders and even to each other? Is it too difficult to know what to say or do? Do we understand the challenge? Are we afraid of what it will mean? Covering artistic work, funding and leadership, Ben Twist will identify some of the solutions, building on the work of Creative Carbon Scotland, an internationally renowned organization putting culture at the heart of a zero-carbon Scotland since 2011.
16:00–17:00
Panel discussion: Good communication as a basis for good relations with public administration and the general public
Guests: Olga Škochová (On Plan), Anna Stránská (HaDivadlo), Jan Kučera (mayor, Rožnov pod Radhoštěm)
Moderace: Matěj Chytil
BIO
17:00–18:30
Coffeebreak and networking
18:30–20:30
TALKS (presentation of inspirational projects and networking)
Ten personalities will present their perspective, their work, their experience with sustainability. Come and be inspired by stories that show that it really is up to each of us how serious we are about working sustainably in our daily cultural practice.  
art re use (Artmap z. s.)

 

Goethe-Institut Prague

 

FAMU – Film and Television Faculty of the Academy of Performing Arts in Prague

 

MUD* – Museum of Art and Design Benešov

 

National Film Archive

 

National Theatre

 

Rock for People (Ameba Production 

s.r.o)

 

One World International Human Rights Documentary Film Festival (People in Need)

 

Studio ALTA

 
  * In alphabetical order 
WORKSHOPS - WEDNESDAY, September 13, 2023
9:00–16:00, Studio ALTA (U Českých loděnic 4, Praha 8), working language: ENGLISH
Caitlin Southwick
#1 Building Sustainable Futures
What does sustainability actually look like? For the cultural sector or for your institution? What does the future actually look like? And how are we going to get there? This three phase workshop allows participants to actively create a sustainable future for their personal context and leave with an action plan and tangible next steps.     
An initial exercise into Futures Literacy will provide participants with the opportunity to unlearn the way that we currently think about the future and reframe what is possible. After participants have their creative juices flowing, they will be asked to create a sustainability vision board – to paint the picture of the desirable sustainable future that they would like to work towards. Participants will be asked to present their vision boards and discuss their visions in groups. Finally, participants will be guided through creating an action plan for their vision – leaving with a concrete plan on how to start working toward a sustainable future. 
9:00–15:00, Velký Mlýn (U Českých loděnic 40/6, Praha 8), working language: CZECH
Adam Karásek
#2 Greenfilming: Teorie v praxi
The audiovisual industry is slowly moving towards a more sustainable production style. The recent advent of carbon calculators has professionalized the process as it gives productions clear guidance on how to reduce their carbon footprint. How to proceed with the green transformation that everyone is happy about but only few want to participate so far? 
The workshop is open to anyone who is involved in any kind of cultural production, such as festivals. The basic principles of sustainability are the same. 
9:00–14:00, galerie Světova 1 (Světova 1, Praha 8), working language: ENGLISH
Hanna Belz
#3 First Steps to a Sustainable Organisation
During this workshop you will learn how to prepare your museum, theatre, cinema, club or other institution for sustainability.   
We will set out together to see which steps are necessary to make our own organization more sustainable. Often it is the small steps that make a start and bring about the big efforts. And most of the time we have already started: Separating waste, cycling to work and not traveling by air. Everyone can contribute something to climate change, even at work.   
We will learn what sustainability actually is, why it is important to reduce CO2 emissions and how this can be achieved. In small groups we will collect measures that can contribute to change. We will then analyze which measures have the greatest impact and are easy to implement. The aim of the workshop is for each participant to take away ideas for their own organization and to have developed an action plan that can be implemented directly after the workshop.